About — The Fairness Project
Founded in 2001 by Dr. Robert N. Minor, Professor Emeritus of Religious Studies at the
University of Kansas, Lawrence, The Fairness Project grew out of over ten years of workshops Dr. Minor has led for religious, civic, business, and community
groups regionally and nationwide. It was officially inaugurated with the publication
of Dr. Minor's first popularly written book, Scared Straight: Why It's So Hard to
Accept Gay People and Why It's So Hard to Be Human (St. Louis: HumanityWorks!
2001) which has been receiving laudatory reviews around the country since and has
been a finalist for a number of literary awards.

The mission of The Fairness Project is simple and multi-faceted: to promote fair and positive understanding of all human beings regardless of sexual orientation, sex, gender identity, nationality, race, ethnicity, age, or abilities, by educating and advocating for fundamental structural change and personal healing. We are convinced that all issues of fairness are related, that all oppressions are connected, and that all discrimination must end so that every human being can live and flourish as a full human being. Dr. Minor continues to be a popular teacher, speaker, workshop leader, and writer on issues of sexual orientation, gender, and active change.
As a project, not an new organization, people from all over the country and in other parts of the world have joined The Fairness Project to bring the insights and tools it offers to further inspire their own lives, leadership, organizations, and movements.
---
About — Dr. Minor

A national resource for information on gender issues and gay/straight relationships for organizations, businesses, educational institutions, and media outlets such as NBC and USA Today, Robert N. Minor, Ph.D. has been speaking, consulting, and leading workshops for twenty years.
He is Professor Emeritus of Religious Studies at the University of Kansas where he taught for thirty-three years and was the chair of the Religious Studies Department for six. A native of Milwaukee, Wisconsin, he received the Ph.D. in Religion from the University of Iowa in 1975 and an M.A. in Biblical Studies from Trinity International University in Chicago.
He is the author of eight books. His first five were scholarly writings on his first specialty, religious thought and practice in South Asia and their relationships to culture. His current research is on gender studies and the relationships of religion, gender, and sexuality. At the University of Kansas one of his popular courses is "Religious Perspectives on Selfhood and Sexuality."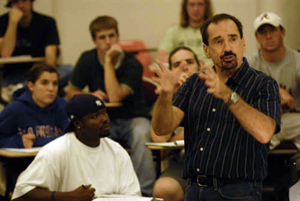 His newest book, When Religion is an Addiction was published by HumanityWorks! in St. Louis. Previously he wrote Gay and Healthy in a Sick Society: The Minor Details published by HumanityWorks! in November, 2003, which was a Finalist for the Independent Publisher Book Award in 2004, and was named in national reviews as one of the best gay books of 2003. His Scared Straight: Why It's So Hard to Accept Gay People and Why It's So Hard to Be Human, also published by HumanityWorks! in 2002 was named a Finalist for both a Lambda Literary Award and the Independent Publisher Book Award. In little more than a month from their publication, Menstuff.org, the premier men's issues website, named each of them "Book of the Week."
Dr. Minor also writes articles including two popular columns — one a monthly column of analysis and opinion entitled "Minor Details" on issues affecting the progressive and gay communities which is printed nationally in on-line and print publications around the country; the second, "Romance and Dating," a column for Baby Boomers on dating, romance, and relationships for the popular website, 50PlusPrime.com.

He is the parent of a grown son and the grandparent of a three-year-old grandson. In 1994 he was a member of the Values Panel for the Kansas City Star (the daily newspaper for Kansas City) for its award-winning "Raising Kansas City Project."
He was a member of the Communities Against Hate Crimes Task Force of the U.S. Attorney for the District of Kansas and the Diversity Advisory Committee of KCPT, the public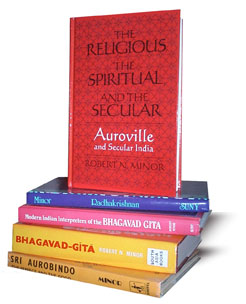 television station for Kansas City, MO. He has served on other boards and task forces, such as the Advisory Board of the nationally acclaimed Center for Religious Experience and Study of Kansas City, and the LGBT Task Force of the American Civil Liberties Union of Kansas and Western Missouri, and currently the Statewide Executive Board of Missouri Jobs with Justice, and the Workers' RIghts Board of Kansas City Jobs with Justice as its Chair.

He is past president of the boards of directors of both the Lesbian & Gay Community Center of Greater Kansas City, and Ecumenical Campus Ministries of the University of Kansas, and is currently a member of the Board of Directors of the American Men's Studies Association.

"Bob" leads workshops on gender roles, homophobia, and racism for universities, colleges, churches, businesses, government organizations, and community and religious groups throughout the US as well as workshops for non-heterosexuals on personal growth beyond "coming out" and how to be a healthy activist. He is a regular conference presenter for the NGLTF's "Creating Change " Conference, and for PFLAG, locally, regionally, and nationally. He worked closely with the Gay and Lesbian Alliance Against Defamation in its Kansas City "Communities of Faith" projects. In 1999 GLAAD awarded him its Leadership Award for Education and in 2012 the University of Kansas named him one of the University's Men of Merit.